Clovia Bra | Clovia Bra Size Chart | Bra Size Calculator – Measure your Bra Size in 2 easy steps
क्या आप जानते हैं कि लगभग 80% भारतीय महिलाएं खराब फिटिंग वाली ब्रा पहनती हैं क्योंकि उन्हें नहीं पता कि अपनी ब्रा का आकार ठीक से कैसे मापें? एक अच्छी तरह से फिट की गई ब्रा न केवल सही लुक के लिए महत्वपूर्ण है, बल्कि सही मुद्रा को परिभाषित करने और आवश्यक समर्थन देने में भी महत्वपूर्ण है। खराब फिटिंग वाली ब्रा के पीछे एक बड़ा कारण यह है कि ज्यादातर महिलाएं अपनी ब्रा का साइज नहीं मापती हैं। अपनी सही ब्रा का आकार जानना सही ब्रा फिटिंग खोजने की दिशा में पहला कदम है। शुक्र है, ब्रा के आकार की गणना करना कोई रॉकेट साइंस नहीं है और यहां हम आपको बता रहे हैं कि अपनी ब्रा के आकार को कैसे मापें। आपको बस एक मापने वाला टेप और एक दर्पण चाहिए। साथ ही आपको अच्छी तरह से फिट की हुई बिना पैड वाली ब्रा पहननी चाहिए।
Here's how to check bra size using bra size calculator
यहाँ ब्रा साइज़ कैलकुलेटर का उपयोग करके ब्रा के आकार की जाँच करने का तरीका बताया गया है,
Step1. Calculate band size
The tape should be levelled and snug.
Round the number obtained, to the nearest whole number. If the number is even, add 4 inches. If it's odd, add 5.
The sum of this calculation is your band size
Example: 25.6 Inches will round off to 26 Band size – 26 + 4 = 30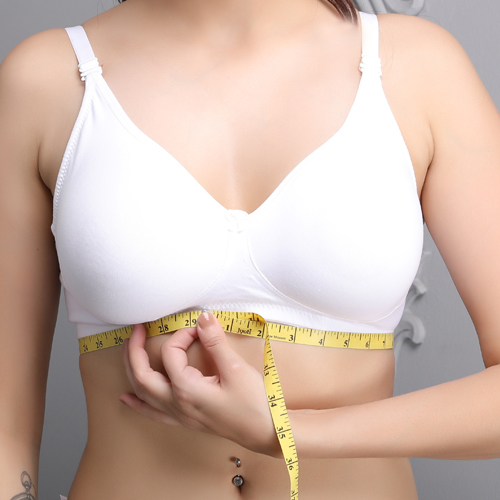 Step2. Calculate bust size/ cup size
Wrap the tape around the fullest part of your bust
Make sure it's not too tight or too loose and without any falls or twists.
Round off the number to the nearest whole number.
Now, subtract the band size calculated earlier from the bust measurement.
Example: Bust = 37 inches, Band = 34 inches, 37 – 34 = 3 inches. That's a 34C!
If the difference between band and bust measurement is 1, then your cup size is A. If the difference is 2, then the cup size will be B, so on & so forth.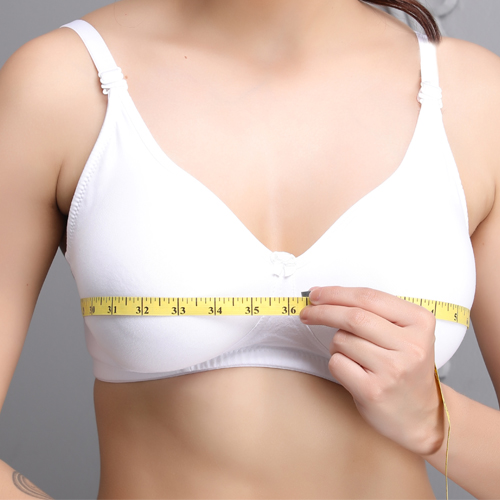 Enter your measurements below or move arrow on the measurement tape
Here's a detailed Bra Size Chart for Indian body types to help you with your right size
BAND SIZE
UNDERBUST
(cm/m)
OVER BUST (cm/m)
CUP A
CUP B
CUP C
CUP D
CUP E
CUP F
28
58.5-63.5
71-73.5
73.5-76
76-78.5
78.5-81
30
63.5-68.5
76-78.5
78.5-81
81-83.5
83.5-86
32
68.5-73.5
81-83.5
83.5- 86
86- 89
89-91.5
91.5-94
94-96.5
34
73.5-78.5
86-89
89-91.5
91.5-94
94-96.5
96.5-99
99-1.01m
36
78.5-84
91.5-94
94-96.5
96.5-99
99cm-1.01m
1.01-1.04m
1.04-1.06m
38
84-89
96.5-99
99-1.01m
1.01-1.04m
1.04-1.06m
1.06-1.09m
1.09-1.11m
40
89-94
1.01-1.04m
1.04-1.06m
1.06-1.09m
1.09-1.11m
1.11-1.14m
1.14-1.16m
42
94-99
1.06-1.09m
1.09-1.11m
1.11-1.14m
1.14-1.16m
1.16-1.19m
1.19-1.21m
44
99-1.04
1.11-1.14m
1.14-1.16m
1.16-1.19m
1.19-1.21m
1.22-1.24m
1.24-1.27m
| | |
| --- | --- |
| Free size | Our free size product are made of knitted material and can fit well on bodies from size S to L |
Some things to remember to select the right bra
It is better to check your bra size every 3-6 months.
Your bra straps shouldn't be too loose or tight & adjustable to your desired level of elevation.
Your cups should properly cover your breasts from front as well as sides.
Your bra band & centre gore should rest flat on your body without being too tight.
Knowing how to measure your bra size will only allow you to know your perfect bra size, which is why you should also know which bra type suits your body silhouette. In such a case, take our FIT TEST to pick the most ideal bra for yourself. Bra size calculator in India by Clovia is the most effective way out.
Want to Know More? Refer to These FAQs
Q1. Why do women need to wear a bra?
Support the breast and shoulders.
Enhance the shape and silhouette.
Prevent sagging of breast tissues.
Avoid pain and discomfort.
Increase confidence.
Q2. How to know when you need to start wearing a bra?
Peer pressure shouldn't force you to start wearing a bra, but these signs should.
The breast buds start developing. As a result, nipples show an impression, especially under body hugging outfits.
Pain and peculiar discomfort in the chest area.
Q3. What is the best bra to wear?
A simple T-shirt bra is ideal for everyday use. These bras give you a smooth line underneath your clothes, as they're either seam-free or they have barely-there seams. These bras don't have any extra embroidery or lace, so they simply vanish under tight fitted tops and dresses.Q4. What is ABCD in bra sizes?
The letters – like A, B, C, D – stand for cup sizes. The numbers – like 32, 34, 36, 38 they tell you the band size – that's the part of the bra that goes around your torso. For instance, a 34A means that your boobs are an A cup and that your bra is 34 inches around.

Example: 37 inches (bust) – 34 inches (band) = 3 inches. That's a 34C.Q5. What is the difference between cup size & bra size?
Your cup size is the difference between your chest size and your bust line measurement while your bra size is your band size with your cup size.Q6. What are sister sizes?
Everyone has a unique body type, which means sometimes you may not find accurate bra size measurement using the regular bra size chart. Here, you can switch to sister sizes. Basically, these are alternate bra sizes where the cup volume stays the same even though the band size and cup letter change. For instance, if you are a 34 B, there is a good chance that a 32 C or a 36 A will fit you. 32 C will have a shorter band size and 36 A will have a longer one, so you can figure out what fits you better.Q7. What happens if you wear the wrong size?
You can put yourself at a risk for plethora of problems, such as
Pain and discomfort in the breast tissues.
Straps start digging into your shoulders.
Back, neck and headache.
Bad posture.
Your bra hinders your movement.
Q8. How can I tell if my bra fits properly? Let's check each part of the bra.
There should be enough space to let 2 fingers pass through your bra straps.
The back band should lay straight on the back without riding up.
The centre gore should sit flat against your sternum.
The underwires should fully encircle the breasts.
Your breasts shouldn't spill out of the cups and the cups shouldn't have extra room either.
Q9. Am I wearing my bra correctly? Let's double check.
As long as you're following these steps, you're good.
Ensure that the bra is tucked on the loosest hook and eye enclosure.
Do the scoop and swoop to ensure optimal support from the cups.
Adjust the straps for a snug fit.
Q10. How to find the right bra for your breast shape?
Here, we have narrowed down the types of bras you should pick as per your breast shape.
Asymmetric: Plunge bra
Athletic: Sports or racerback bra
Bell: T-shirt bra
Round: Balconette bra
Downward: Push-up
Q11. How to make your bra last as long as possible?
To retain the lifespan of your bra, you must machine wash it instead of handwashing it in cold temperature. This is especially important for padded bras. Also, use a lingerie bag to prevent deformation of cups.Q12. When should you replace your bras?
The average recommended time to revamp your bra closet is about six months to a year depending on your usage. If you wear everyday cotton bras more than others, we recommend you swap them after six months. However, something like a strapless or balconette bra, which you only wear a few times, they can last as long as a year.